The best tariff for your pay as you go is dependent on many factors. Choosing the best one can be a bit of a task. Texter talker or surfer or are you a mixture of all three.
1. Depending on the mobile telecommunications company that you are signed up with, which plan will be more appropriate for the way that you make calls?
2. Do you often call out of the country?
3. How long do your local and long distance calls last on average?
4. How may text messages per day do you send on average?
5. Do you use video calling to other networks?
6. Do you send picture messages?
7. How often do you receive Voicemail messages?
8. Do you make calls to satellite phones?
9. Do you use WAP chat?
10. Do you access the Internet using your mobile phone?
All these questions need to be answered before you choose a pay as you go provider
What tariffs are available
All information is provided by the website of the pay as you go providers and is correct as of 31st may 2010
Provider T-mobile
More information on T-mobile pay as you go deals
Plan details
A run-down of our price plan, so you know exactly what you're getting
Calls
Texts
Pictures messages
Internet on
phone
Customer service
Voicemail
To T-Mobile phones
8p a
minute
5p a
message
20p a
message
£1 a day
maximum
Free
but 25p to
speak to an
agent
10p a
minute
To other mobiles & landlines (01, 02, 03, excluding Jersey, Guernsey and the Isle Of Man)
25p a
minute
10p a
message
All numbers starting with:
0843, 0844, 0845,
0870, 0871, 0872
0808, 0800
0500
070
40p a minute
From free to
40p a minute
40p a minute
From 25p to
75p a minute
All chargeable calls will be subject to a one minute minimum charge unless otherwise stated.
Provider Orange
Monkey
Monkey's a brand new plan we've created with 4Music. You get loads of free texts and music on any pay as you go mobile and access to thousands of tracks on our online player. Create playlists, listen to them on your mobile and send to friends for free.
£10 top up
free music and 300 free texts
£20 top up
free music and 600 free texts
£30 top up
free music and 1,000 free texts
Dolphin
choose Dolphin and get free texts and free internet on your phone every month, just by topping up £10.
£10 top up
300 free texts
£20 top up
600 free texts
£30 top up
unlimited free texts
Canary
free evening and weekend calls to any mobile
£10 top up
100 evening and weekend minutes
£20 top up
200 evening and weekend minutes
£30 top up
300 evening and weekend minutes
Racoon
15p per minute to any network, any time
10p texts to any network, any time
Camel
calls to over 50 countries from 5p per minute
20p calls to any network in the UK at any time
10p texts to any network in the UK at any time
Provider Vodafone
Text Unlimited

Top up just £5 a month, and you can text as much as you want on weekday evenings. For just £10 a month you can go unlimited in the evenings and at weekends. And for £30 a month? Go text crazy all day, every day.

Free Weekends

From midnight Friday till midnight Sunday, have your say without having to pay. Use £5 of your top-up during the week, then chat and text all weekend – without using up any more of your minutes or texts.
In addition, choose up to 4 great value pay as you go perks
Passport

Family

International

IOU
With Vodafone Passport you can take your UK rates abroad to over 35 countries, including Australia and New Zealand. So you can call home without worrying about the cost.
Provider Virgin
The Addict Tariff
With Virgin Mobile, there's one simple Pay As You Go tariff that's perfect for people who love their phone.
• Get free rewards on top of your credit when you top up, like unlimited texts and web access when you top up with £20 a month, or 300 free texts when you top up by £10
• Send 5 free Call Back texts a month, so you can ask friends to call you when you've run out of credit
• A free SIM card and one simple tariff
And, if that's not enough for you…
• If your first top up is £10 or more, we'll give you a month's free allowance instantly – just to say hello! Then you'll get your normal allowance on the first day of the next month.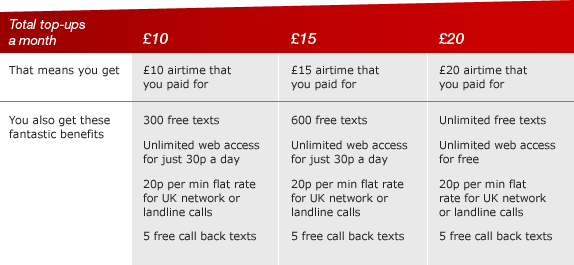 3Pay
| | |
| --- | --- |
| 3-to-3 calls | Free for 90 days with Top-up, then 25p / min |
| Texts to any UK mobile | Free allowance with every Top-up, then 10p/text |
| Mobile internet | Free allowance of 150MB with every top-up, then 30p / MB |
| Voice calls to other UK mobiles* | 25p / min |
| Voice calls to any UK landline* | 25p / min |
| UK Video calls | 50p / min |
| Skype-to-Skype** | Free |
| Windows Live Messenger | Free |
| Voicemail in the UK | 15p / min from 22nd April 2010 |
With each top up you do get some "extras"
Top up £5
25 Free Texts
Top up £10
300 Free Texts
Top up £15
500 Free Texts
Top up £20
1000 Free Texts
Top up £25
Unlimited Free
Texts
Provider O2
Find out more about the current O2 Pay as you go tariffs
HIGHLIGHTS
All our tariffs include a free monthly allowance
Get 10% back on Top Ups, up to £150 a quarter
Voted No.1 for customer Satisfaction
Text & Web
Texts and unlimited* internet browsing on your phone.
Top-up £10 – £14 Get 300 UK texts and unlimted web
Top-up £15 – £29 Get 500 UK texts and unlimited web
Top-up £30 or more Unlimited UK texts & unlimited web
Favourite Place
Unlimited minutes* to any UK landline or O2 mobile from your chosen registered postcode
Top-up £10 – £14 Get 500 minutes
Top-up £15 – £29 Get 1000 minutes
Top-up £30 + Get Unlimited minutes1
Talkalotmore
Evening and weekend minutes to call standard UK mobiles and standard UK landlines from the UK
Top-up £10 – £14 Get 50 UK off-peak mins
Top-up £15 – £29 Get 150 UK off-peak mins
Top-up £30 + Get 300 UK off-peak mins
O2 Unlimited
Unlimited calls and texts to anyone on O2
Top-up £10 – £14 Get Unlimited texts to O2 mobiles
Top-up £15 – £29 Get Unlimited calls & texts to O2 mobiles
Your Country
Free additional international calls to almost anywhere in the world when you top up each month. No long access codes or PINs – just dial and talk
Top-up £10 – £14 50 additional
minutes
Top-up £15 – £29 100 additional minutes
Top-up £30 + 200 additional minutes
When you have used up your free allowance, international mobile calls from the UK to any country will be charged at the International Caller Bolt On rates. You can check your free allowance by either calling 4444 free or by sending a SMS with the word 'balance' to 20202 free.
Text and Call
Anytime texts and minutes to any mobile and landline in the UK
Top-up £10 – £14 Get 25 minutes and 25 texts*
Top-up £15 – £29 Get 100 minutes and 100 texts*
Top-up £30 + Get 200 minutes and 200 texts*
*Applies to standard UK landline and UK mobiles when used in the UK
Simplicity Tariff
Unlimited texts
Simplicity Unlimited Text (£5 per month)
Simplicity Unlimited Text + 100 minutes (£10 per month)
Simplicity Unlimited Text + 300 minutes (£15 per month)
Simplicity Unlimited Text + Unlimited Web (£10 per month)
Simplicity Unlimited Text + Unlimited Web + 100 minutes (£15 per month)
Simplicity Unlimited Text + Unlimited Web + 300 minutes (£20 per month)